With rapid growth of manufacturing industries, automobiles and advent of affordable personal music devices, risk of noise induced hearing loss has increased by many folds. World Health Organization estimate that more than 11 billion teenagers are at risk of having their hearing damaged due to unsafe use of personal music devices, high levels of noise at night clubs and sporting event. A study in India has shown an alarming prevalence of work related hearing loss up to 60% of participants in industrial workers across all age groups(Rupender K Ranga, 2014).Occupational hearing loss is listed under List of Notifiable Diseases as per Third Schedule of the Factories Act, 1948.
Have a look at average noise levels measured across different places where we often get exposed to
| Industries | Range (dBA) |
| --- | --- |
| Industries Textile industries | 102-114 |
| Pharmaceutical firms | 93-103 |
| Fertilizer plants | 90-102 |
| Oil and natural gas complex in Bombay | 90-119 |
| Road traffic in Ahmedabad city | 60-102 |
| Surface rail traffic | 90-102 |
| Metro rail | 70-111 |
| Air traffic | 90-112 |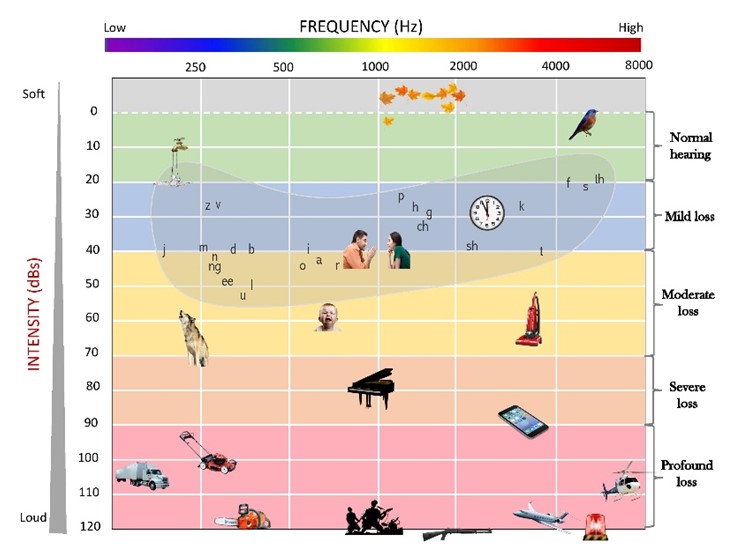 How do I know?
When a noise-induced hearing loss develops gradually, it is harder to perceive. The noise induced hearing loss symptoms and signs, like many other types of hearing loss, are for example:
Problem in hearing what other people are saying, like people are mumbling,
Problem in hearing children and women's voices
Problem in hearing at meetings and social gatherings
Problem in hearing in background noise, like in a restaurant
If people are saying that your TV is turned up to loud or say that you speak too loudly, this can also be a sign of a noise-induced hearing loss.
A noise-induced hearing loss is often accompanied by tinnitus – a ringing, whooshing, roaring or buzzing sounds in your ears, also more commonly known as ringing ears.
Some with a noise-induced hearing loss may also experience pain in their ears when exposed to noise.
A simple self-check is stand at 3feet distance from speaker and if you struggle to understand speech by more than 50% then the noise is harm full to your ears.
How do I prevent?
If you are reading this section of preventing noise induced hearing loss, then you are at right place. We at Joy of hearing have a team of trained audiologists who detect, understand and provide guidance to mitigate the effects of occupation/ noise related hearing loss. We provide the following services which help you to preserve your hearing from noise related hearing effects.
Industrial screening
High frequency audiogram
Cochlear functionality screening using OAEs
Noise mapping at workplace or living area
Noise source detection and management guidance
Baseline, annual and exit audiogram for employees
Hearing protection devices
Counselling and rehabilitation of affected individuals
Administrative, Engineering and HPDs based on noise level and other requirements
There are different types of HPDs depending upon their shape, size and functions
Ear Plugs: Inserted in the ear canal, they can be availed in two forms pre moulded, different number of flanges mouldable which can be disposable and also in customized shape.
Semi Insert Ear plugs: Consist of two ear plugs held over the ends of the ear canal by a rigid headband.
Earmuffs: Consists of sound absorbing material packed inside soft ear cushions which are held by head band.
These are the varieties of HPDs (Hearing protective devices) which helps in reducing the effects of noise on your ear and provide different levels of noise reduction. The choice of protectors are very customized and depends on variety of factors such as noise levels, comfort and suitability of HPDs in work place as they also should not create interference in general communication and their ability to suppress noise. To find out most suitable type of HPD depending upon your needs consult our audiologists at Joy of Hearing.
Apart from noise protection we also have specialized facilities to prepare customized ear plugs for ear protection during swimming, sleeping plugs, shooting protection and musical purpose which custom shaped to fit comfortably in your ears and facilitate the needs of your profession (musicians) as they are
More comfortable to wear
Longer lasting
Easy to insert
Securely fit in the ear
More discreet
Our audiologists can recommend the right custom earplugs for you and ensure that they will provide you with enough protection from loud sounds and also allow you to hear the sounds you need to hear. For example, musicians' earplugs allow you to hear the details in the music in a quieter and safer way, better protection from loud noises based on NRR ensuring a complete protection from noise.