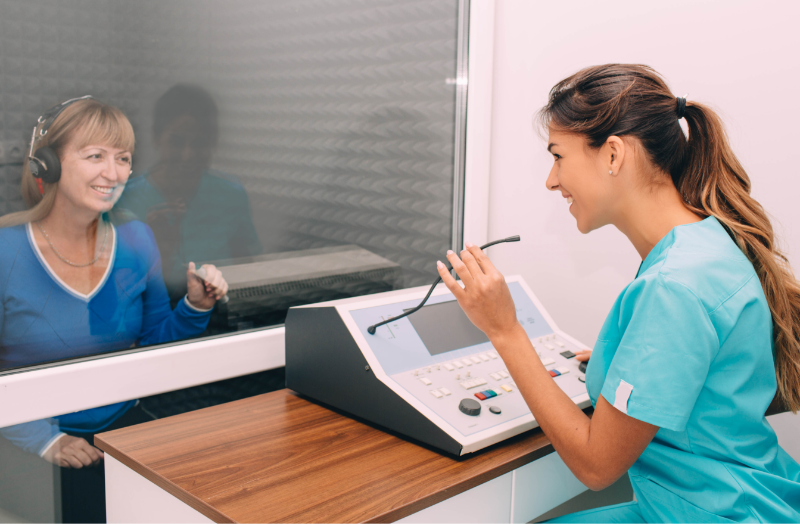 ''Blindness separates us from things, but deafness separates us from people'' – Hellen Keller

You'll be amazed to howsubtle improvements to your hearing can make a huge impact on your quality of life.
Our expert team carries out a comprehensive hearing assessment for paediatrics, adults and geriatrics to evaluate your hearing and provide most effective solutions to enhance your Joy of Hearing
Hearing Assessment
Team of our audiologists will be able to give you a complete examination and help you realize everyday situations with respect to hearing issues. We have the state of art technology in place to have a detailed understanding of your problem that would help in identifying the most appropriate solutions.
Signs and Symptoms of Hearing Loss
Hearing loss can manifest itself indifferent forms depending upon the extent, site of lesion and pattern of the loss, based on it any of the following symptoms separately or in combination could be seen in individuals with hearing loss/ ear problems.
Muffling of speech and other sounds
Speaking in loud voice
Asking for repetitions
Struggling to understand speech in presence of background noise or in a crowd
Difficulties in locating the source of sound
Looking for visual cues from lips or prefer subtitles along with audio
Having trouble hearing women's and children's voices
Having trouble hearing on the telephone
Feeling more irritable or depressed
Avoiding social gathering that were once enjoyable
Having difficulty following a fast-moving conversation
Missing important information in meetings
Failure to hear soft sounds like birds chirping and other soft sounds
Needing to turn up the volume of the television or radio
Difficulty in hearing sounds that are far away such as church bells and approaching vehicles
Delayed speech and auditory milestones
Difficulty/ distorted pronunciation of specific speech sounds /sa/, /sha/, /fa/, etc.
Inconsistent response to name call/ sound especially in children.
Not attentive in class
Miss out on jokes and don't know the reason why others are laughing
Fail to hear the doorbell or the telephone ringing
Buzzing or ringing sound in the ear
Hearing Loss and Your Life
Hearing being one of the important sense organs of us plays a pivotal role in our life's happiness. Hearing helps us to keep us stay lively, social and hearing is an important pre-requisite to speech which is quintessential of human communication that only can be found among human beings.
Hearing everything that's around can make us to enjoy every details of things around us. Be whether sounds of an emotion, sounds of music and sounds of nature or a simple talk with your loved ones which will certainly make every moment of life a memorable one. There's nothing better than staying connected with the world in today's modern world that's filled with sounds. The key to stay connected is our hearing without which we find ourselves nowhere in our own world although we have every other thing to take care of us. Losing hearing will be the biggest shock to any human being as it devoid him from every aspects of the world that he was a part of. His sense of space gets shrink, tend to miss out major warning cues making him vulnerable for hits and mishaps. His social life gets poor and starts withdrawing himself from all activities that kept him upbeat before. This could pose an immense threat to his mental and physical wellbeing.
Hearing loss could lead to embarrassment which often makes to feel let out
Missing one's loved sounds can create strong despair
Missing important cues could create anxiety
Feeling left out can lead to social isolation and depression
Hearing loss can increase the chances of dementia and Alzheimer's disease in geriatrics
Nothing could more dismay than missing the first sounds of grandchildren for older population
Not hearing things can pull down the confidence making people to be more dependent
Frequent requests to repeat things might frustrate family members
How important is to improve your hearing?
There is no single good reason for not improving hearing itself is the biggest reason to improve hearing , age related hearing loss is the single most common reason for majority of the hearing loss cases in India, in normal human. This starts from the 5th decade of life. Initially this goes undetected and slowly starts aggravating. Loss becomes more intense by the time an individual recognizes and makes up mind to seek treatment which makes rehabilitation more challenging. Though there is no cure to age related hearing loss, the advent of modern era digital hearing aids has made wonders by helping the affected to overcome the disability and handicap. Congenital, genetic factors and sudden SNHL are other common reasons that make up to hearing loss. Hearing aids in all cases provide a remarkable assistance to individuals with hearing impairment.